Brown-McCulloch House
1605 East Spring Street
New Albany, IN 47150

$34,900

Featured in March 2007 issue of This Old House Magazine, the 1875 Brown-McCulloch House is ready to finish. C-2 zoning allows residential and/or commercial use. Indiana Landmarks saved the house from demolition and has completed major structural repairs and exterior improvements, including new roof, gutters & downspouts, siding repair and all exterior paint. Approximately $80,000 has been invested to date. Some interior demolition completed. Interior requires complete renovation, including new mechanical systems. Several outstanding original interior features remain, including staircase, two mantles, doors and trim and hardwood floors. Architect's concept drawings available for interior renovation. Property in East Spring Street Historic District and will be sold subject to preservation easement.
Located at the gateway to the East Spring Street locally designated historic district, the Brown-McCulloch house is a 2 story frame structure exhibiting Italianate architectural influences that was built around 1875. George Beckley and his wife purchased this lot on April 23, 1873 from Washington C. DePauw for $800.00 and this house was built sometime after the purchase date. Mr. Beckley was a glasscutter for John B. Ford's Star Glass Co. The Beckley family probably lived here between the years of 1874-1876, but there is no evidence to substantiate this.

On June 23, 1876, Mrs. Margaret Brown, widow of John, purchased the property for $1,787.00. With the large increase in price from 1873 to 1876, it is obvious that the house was already built by this time. Mrs. Brown died in November of 1885 and her estate sold the property to George Lyman on May 3, 1887 for $2,100.00. There is no record of anyone residing in the house between November of 1885 and May of 1887. Neither is there evidence that George Lyman lived at the property. By November 1, 1888, the property had been purchased by the Louis C. Cousins family for $2,500.00. Mr. Cousins was a conductor for the Louisville-Evansville & Saint Louis Railroad. The Cousins family occupied the house until July 2, 1901, when it was sold to Louis Bir and his wife for $3,500.00. Between the years of 1899 to 1905, the west bay was added to the house. The Sanborn Fire Insurance Map for 1898 does not show the bay nor the wrap-around porch, but by the 1905 map the bay is shown. It is evident that the Birs used the property for rental purposes since there were several residents listed in the New Albany City Directories as living at this address.

William G. Loebig and his wife purchased the house on October 12, 1908 for $2,500.00, but the Loebigs lived here for only five months, when they sold the property to John E. Lambdin on March 2, 1909 for $3,800.00. Mr. Lambdin was involved in the lumber business. On April 17, 1911, the house was sold to the Thomas M. McCulloch family by Mrs. Minnie Lambdin. This began a long tenure for the McCulloch family occupying the house that would span at least 45 years. Thomas McCulloch was a partner in the cement contracting business of W. S. Condra Co., located on the north side of Market Street, east of Silver. The wrap-around porch with fluted columns set on chamfered paneled piers likely was added by Mr. McCulloch. Two young-adult McCullochs were listed in the New Albany City Directory of 1927 and by 1931, three were listed as boarding there: James, a physician; Mary, a student; and Thomas G., a lieutenant with the United States Army. On October 4, 1931, Thomas M. died and his widow, Anne, remained in the house until her death on March 16, 1955.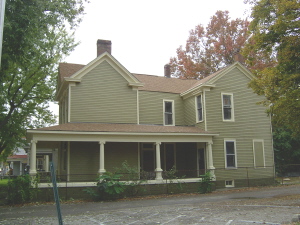 Historic Landmarks Foundation of Indiana - now Indiana Landmarks - purchased the condemned house in April 2006 in order to save the structure from demolition. Stabilization measures have been completed to address structural issues with the building and to protect remaining intact architectural features. Work has included: rebuilding the porch roof structure; replacement of the roof with a 30 year architectural shingle; installation of new gutters and repairs to existing built-in gutters; repair/rebuilding of three chimneys; correcting a bowing wall on the rear of the house; removal of asbestos shingles on the building exterior; repairs to wood siding, trim, soffits and a west side bay window; exterior painting; and installation of period appropriate exterior entrance doors at front and rear of the building.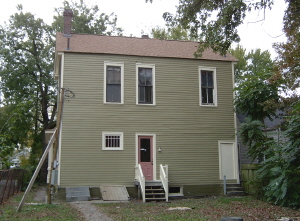 It is Historic Landmarks' intention to sell the house to a preservation-minded buyer who will complete the rehabilitation of the structure within an agreed upon time frame (typically 12-18 months). The property is being sold with preservation covenants which will require approval by Indiana Landmarks of all subsequent exterior changes. New Albany Preservation Commission approval is also required. The covenant placed by Indiana Landmarks runs with the deed in perpetuity.


The Brown-McCulloch house features nearly 2,500 square feet of living space, and is located on a 40' x 170' lot. The structure retains hardwood oak floors in several of the first floor rooms, 12-foot ceilings on the first floor, portions of the original walnut staircase, and two fireplace mantels – an early 20th century oak mantel with tiled surround and hearth in the front parlor and a wooden arched Italianate fireplace mantel with tiled surround and hearth in a second floor bedroom.
Some original interior trim and doors also survive. The second floor retains its original wide board pine floors. The second floor has 3 bedrooms and a fourth walk-through room that could serve as a library or family room on the second floor. There are two bathrooms on the second floor that retain cast iron claw foot bathtubs. An antique toilet also survives in the rear second floor bathroom. There are presently 2 bathrooms on the first floor. The house has a full basement that is presently only accessible from an exterior bulkhead door.


The Brown-McColluch house will require complete rehabilitation. A condemnation order by the City of New Albany had been placed on the house and coordination with the City's Building Commissioner will be necessary in order to restore the house to habitable condition. The zoning of this property will allow for residential or commercial use.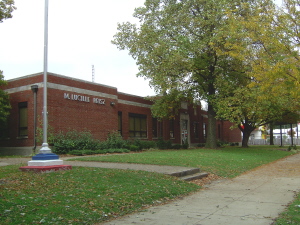 This historic property is being offered for sale "as is." The property offers a unique chance to own a highly visible historic property on a major entry corridor into Downtown New Albany. Numerous properties in the immediate area have been rehabilitated in recent years. County offices are planned for the former school building immediately to the east and the historic Calumet Club is located across the street. The East Spring Street Neighborhood Association has an active presence in the area.
Sale Price:
$34,900.00
Contact:

For more information, contact RE/MAX Results' Judy Martin, 502/523-5234 or judymartin@insightbb.com, or Ed Clere, 812/987-4333, 812/945-8000 or edclere@gmail.com.