Bull-Wright-Coleman House
830 Cedar Bough Place
New Albany, IN 47150

$1

Cedar Bough Place is one of the few remaining private streets in New Albany. Brick piers and iron railings define the entrance to this small, single block neighborhood off Ekin Avenue. At the time of its development by the Huncilman family in the period from 1890 to about 1910, "living on the Bough" was considered to be a prestigious address, as it still is today. Previously, this area had been owned by the Beeler family and was known as "Cedar Dale." The postcard view below shows the south entrance to the neighborhood in 1913.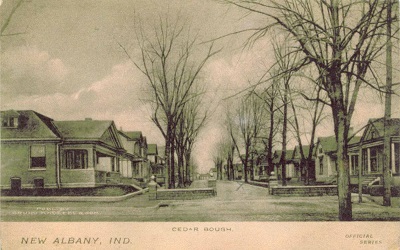 Local merchant Benjamin Bull had this Queen Anne-style home constructed in late 1892, at a cost of $3500, with an additional $1500 for the lot. Bull and his wife, Alice, lost the house to sheriff sale in February 1901. It was purchased at that time by Allen and Addie Wright, who remained in the house through 1919. Mr. Wright was vice-president of the Louisville branch of Cliver, Wright and Rainey, a cotton brokerage business. In February 1919 the home was sold to the Arthur Coleman family. Coleman, a dentist who had his office at 319 Pearl Street in downtown New Albany, had previously lived at 838 Cedar Bough Place, which he had built in 1910. The Colemans remained in the home until the early 1950s, and it saw numerous owners in the intervening years before being purchased by the current owners in 1984.
The rehabilitation work by the current owners - including replicating the porches and restoring the wood siding - was recognized with a 'Facelift Award' from the New Albany Historic Preservation Commission in 2011. The house was repainted with its historic paint colors in 2016.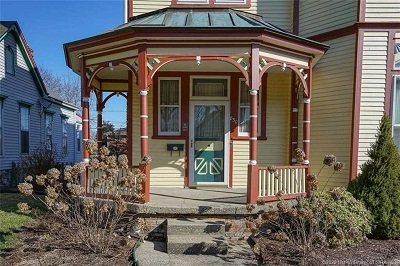 This Queen Anne-style, 2521 square foot 2 ½-story home includes four bedrooms and two full bathrooms. Additional square footage is available in the attic, which is currently unfinished. The house features a covered front porch, side porch, and enclosed 14' x 21' rear porch. The house features the asymmetrical massing typical of the Queen Anne style, and its complex roofline is marked with jerkinhead side gables and a tall brick chimney. A projecting, bracketed two-story bay window on the front façade is capped by a gabled roof with Stick-style ornamentation. The first floor of the bay features a framed grouping of paired windows with a segmental-arched stained-glass transom above. Another distinctive façade feature is the polygonal, copper-roofed front porch, which is supported by turned posts and ornamented with arched brackets terminating in a drop-pendant detail.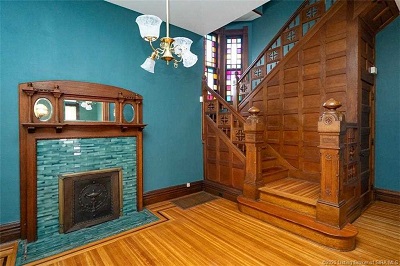 Noteworthy interior features include a stunning entry hall with an original fireplace and a staircase with Eastlake detailing, lit by a bay with three stained glass windows. The home includes a total of four fireplaces, as well as numerous stained-glass windows, hardwood floors, original woodwork and 10' plus ceilings.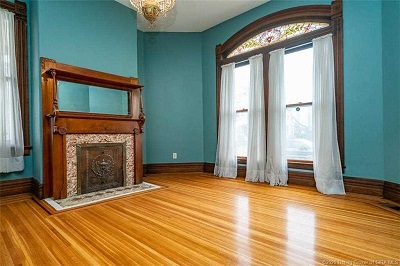 A family room addition with a full bathroom could be an ideal first floor master suite. The spacious, updated kitchen offers lots of cabinet space and is adjacent to the first-floor laundry area.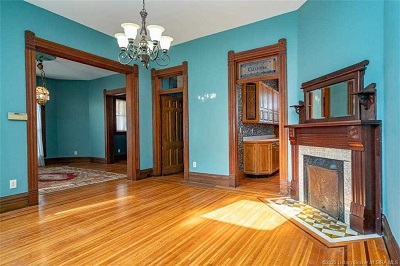 The second floor includes four bedrooms and the second full bathroom. Plenty of storage is available, both in the attic and in the unfinished basement. Updates include high-efficiency natural gas heat, central air, and an on-demand hot water heater.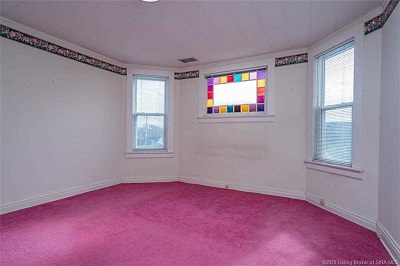 The home sits on a landscaped 60' x 125' lot and has an oversized, detached two-car garage with front and rear overhead doors, accessible from the alley.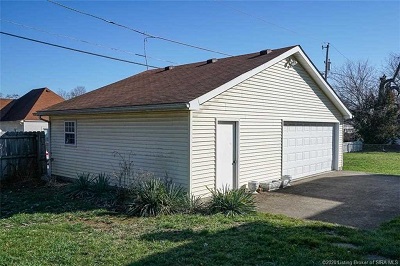 Because this home is listed in the National Register of Historic Places as a contributing part of the Cedar Bough Place Historic District, the owner would be eligible to take advantage of tax credits to help recoup qualified rehabilitation costs. For more information, visit
http://www.in.gov/dnr/historic/2814.htm
. The neighborhood is also a locally designated historic district. Because of this local designation, any exterior alterations must be reviewed and approved by the New Albany Historic Preservation Commission. For more information about the NAHPC and a copy of the City of New Albany Design Guidelines for local historic districts, please visit
www.newalbanypreservation.com
.
To be sold at online-only auction beginning at 6 PM on February 12 and ending February 19 at 6 PM. Open for inspection on Sunday, February 9 from 2-4 PM and Wednesday, February 19 from 11 AM to 1 PM or by appointment. 10% non-refundable down payment in the form of cash, check or wired funds is due within 24 hours following the auction, balance due in 40 days. Taxes prorated to the day of closing. Possession at closing. Selling as is without contingencies, all inspections welcomed prior to the auction. More information available at
http://www.harrittgroup.com/historic-cedar-bough-place-online-auction/37564/
.