Long-Graf House
1945 East Elm Street
New Albany, IN 47150

$159,900

Located on an elevated corner lot in the City's Uptown Neighborhood, the landmark Long-Graf House is an outstanding-rated Queen Anne style residence that was completed in 1892. The lot on which the home is located was purchased by Clara Long on November 21, 1891. The building permit, which was signed by Clara Long, is dated December 5, 1891. She and her husband James sold the home on February 9, 1900 to Sarah and John Vaughn and Allie Jones. The Jacob Graf family purchased the property from Vaughn and Jones on September 20, 1904. The property stayed in the Graf family until October 22, 1976, and then quickly passed through two other owners before being purchased by Kenneth and Sherry Brock in September 1978. The Brocks owned the house until the fall of 2008.
The exterior of the Long-Graf house is rich in architectural detailing characteristic of the Queen Anne style. The steeply pitched central gable roof with lower cross gables is embellished with a bracketed pediment decorated with fish scale shingles. Below this feature illuminating the attic are paired Queen Anne windows with small panes of colored glass surrounding a larger pane of clear glass.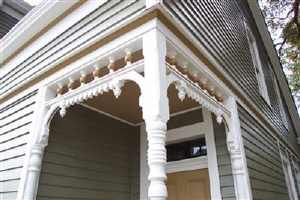 Decorative turned posts with a spindlework frieze are found on a second floor porch on the front façade. The first floor porch exhibits cast concrete fluted columns set on chamfered and paneled cast concrete piers – the result of an early 20th century updating of the porch. Evidence of the earlier turned posts is still visible in the pilasters set against the house. Bay windows with decorative bracket supports at the eaves are found on the side elevations of the house. The seller has repaired the siding and restored architectural details, as well as painting the exterior.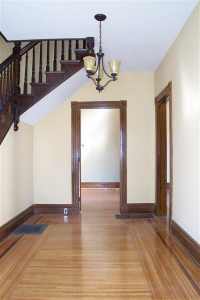 The 2-1/2 story dwelling contains approximately 2281 square feet of living space with four bedrooms and two baths. The interior has also been freshly painted.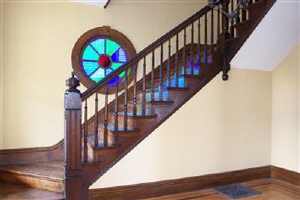 The first floor contains faux comb-grained woodwork, pocket doors, an open staircase illuminated by an unusual "pin wheel" window with colored glass.
The living room features a corner marbleized slate fireplace mantel with Eastlake design and original tile work and firebox cover.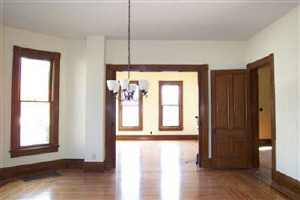 Newly refinished strip oak flooring is found in the principal rooms. The kitchen, which has also been redone, is located adjacent to a large breakfast room.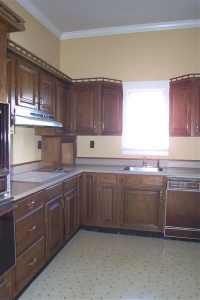 The first floor also contains a bath and laundry room.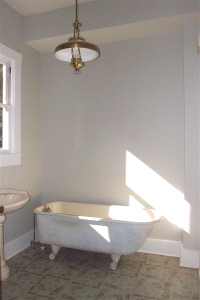 The second floor features four bedrooms and a full bath with cast iron claw foot tub.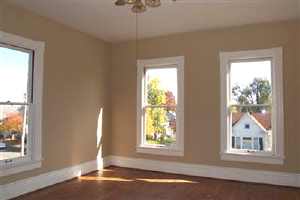 An unfinished attic offers the potential for storage and/or more living space.
The Long-Graf House property is a single-site locally designated historic district. Because of this local designation, any exterior alterations must be reviewed and approved by the New Albany Historic Preservation Commission. For more information about the NAHPC and a copy of the City of New Albany Design Guidelines for the local historic districts, please visit www.newalbanypreservation.com.
Buy now and take advantage of historically low interest rates. Up to $8,000 refundable federal tax credit for qualified buyers; ends April 30. Seller did not replace furnace because new owner may be eligible for significant tax credits and other incentives for installing a new, high-efficiency furnace. Federal tax credit only available to owner occupant, so seller chose to spend on other improvements and let buyer take advantage of incentives for furnace replacement.
Sale Price:
$159,900.00
Contact:

For more information contact Ed Clere, RE/MAX Results, 812/987-4333, 812/945-8000 or edclere@gmail.com.