Christian & Matilda Oeffinger House
1709 Charlestown Road
New Albany, IN 47150

Sheriff Sale

Mrs. Magdalene Toby, a widow, was living in an earlier home on this site when it was destroyed by the Great Cyclone of 1917. The tornado hit several areas of New Albany including the Hilltop enclave of Charlestown Avenue and Vincennes Street. It doesn't seem that Mrs. Toby was seriously injured by the storm, but the house appears to have been completely destroyed.
The 1917-1918
New Albany City Directory
wasn't printed until after the cyclone: and it appears that this house was built immediately the disaster, and listed in the directory as being vacant.
There were several different residents that occupied the home until the mid-1920s, when Christian and Matilda Oeffinger took up residency here. Christian was listed as an auto mechanic. The Oeffingers remained in the home until the early 1950s.
The property's judgment number is . With this number you can visit the Clerk's Office in the City-County building and enter it into their computers to find the judgment owed on the property. This is public record.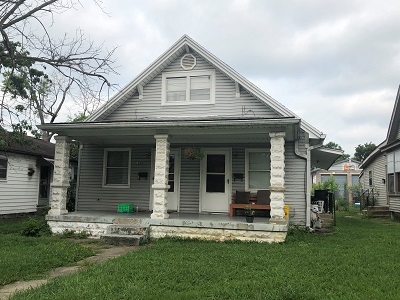 Contact:
To be sold at Sheriff's Sale Thursday, 16 September 2021 at 10:00 AM on the third floor of the City-County Building (311 Hauss Square, New Albany). Judgment number: