Claude & Anna Laughhunn House
2213 Reno Avenue
New Albany, IN 47150

Sheriff Sale

It is quite possible that Reno Avenue derives its name from the notorious Reno Brothers gang who committed the first train robbery in America, just east of Seymour, Indiana. Sometime later, the brothers were apprehended and brought to the Floyd County Jail for safe keeping. While prisoners in the jail located in downtown New Albany, a group of vigilantes from Seymour, the brothers' hometown, broke into the jail and hung the entire gang.
This area of New Albany was platted in June 1916 by the McCulloch Land and Improvement Company, who in turn, sold parcels to local investors. This house was possibly built by New Albany contractor, Michael Burger in 1922. Burger built several houses on Reno Avenue including his own at 2215 and another at 2210. Claude and Ann Laughhunn lived in this new home until 1942. Laughhunn was a clerk for the W.H. Stalker Drug Co. located in the Uptown area at 234 Vincennes Street.
The photo below shows the home when it was on the market in 1969, prior to the front porch being screened.
The property's judgment number is 22C01-1904-MF-000594
. With this number you can visit the Clerk's Office in the City-County building and enter it into their computers to find the judgment owed on the property. This is public record.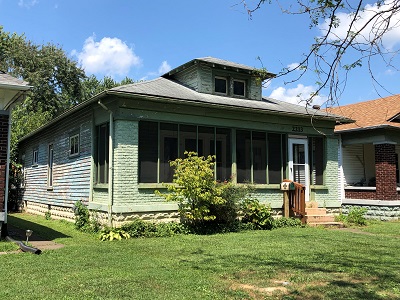 Contact:
To be sold at Sheriff's Sale Thursday, 19 September 2019 at 10:00 AM on the third floor of the City-County Building (311 Hauss Square, New Albany). Judgment number: 22C01-1904-MF-000594.