Kehoe-Garnier House
705 East Main Street
New Albany, IN 47150

Sheriff Sale

This lot was purchased in March 1905 by Miles
Kehoe
, Sr., a leading builder and contractor in New Albany. A number of the business blocks and public buildings in downtown New Albany were erected by him. It was quoted in the New Albany
Weekly Tribune
that, "He was an honest, upright citizen and in his contracting business bore a reputation for integrity and willingness to carry out his agreements even though it resulted in financial loss to
him."
Mr.
Kehoe
died in September 1911 from complications of a stroke of paralysis shortly after the house was completed.
Miles and his wife Rosa were residents of East Main Street, residing in the historic Samuel A. McClung House at 1118 East Main. The
Kehoe
family used 705 for investment purposes until 1920, when the family sold the property.
The house saw another three owners who also used it for rental purposes, until Anna Mae
Garnier
purchased the house in February 1947. Mrs.
Garnier
only lived here a few months before selling it to the Paul J.
Tegart
family in July 1947. Judge
Tegart
and his family made their home here until moving to the historic Joshua
Bragdon
House at 517 East Main Street in the mid
1950s
.
705 East Main Street is listed in the National Register of Historic Places as a contributing part of the Mansion Row Historic District. Therefore, the owner would be eligible to take advantage of tax credits to help recoup qualified rehabilitation costs. For more information, visit
http://

www.in.gov

/

dnr

/historic/3679.htm
. The neighborhood is also a locally designated historic district. Because of this local designation, any exterior alterations must be reviewed and approved by the New Albany Historic Preservation Commission. For more information about the
NAHPC
and a copy of the City of New Albany Design Guidelines for the local historic districts, please visit
www.newalbanypreservation.com
.
The property's judgment number is 22CO1-1012-MF-2312
. With this number you can visit the Clerk's Office in the City-County building and enter it into their computers to find the judgment owed on the property. This is public record.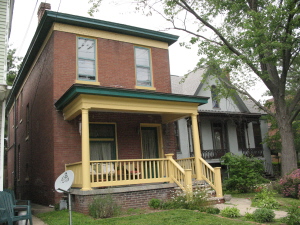 Contact:

To be sold at Sheriff's Sale Thursday, 13 October 2011 at 10:00 AM in the Office of the Sheriff of Floyd County (first floor of the City-County Building, 311 Hauss Square, New Albany). Judgment number: 22C01-1102-MF-00191 22222CO1-1012-MF-2312.
22CO1-1012-MF-2312