Scott-McKiernan House
1417 East Main Street
New Albany, IN 47150

Sheriff Sale

Built 1864. Greek Revival. The Scott-McKiernan House. These two lots were purchased by David R. and Sophronia C. Scott from David Cadwalder in July 1864 for $1,600 and the home was immediately constructed. As early as 1848, Mr. Scott was a chairmaker for Hugh Nesbitt of New Albany. By the time of construction of the house, David was partners with John W. Brindley in the business venue of Scott & Brindley, manufacturers and dealers in furniture, located on West Main Street between State and West 1st Streets in downtown New Albany.
The Scotts sold their home to George S. McKiernan in December 1866 for $8,000. Mr. McKiernan was secretary of the newly formed Jeffersonville, Madison & Indianapolis Railroad, a product of the 1866 merger of the Indianapolis & Madison Railroad with the Jeffersonville Railroad. This railroad came to New Albany in 1866 and was owned and operated by the Pennsylvania Railroad. Both the passenger and freight stations were located south of East Main Street between State and Pearl Streets in downtown New Albany.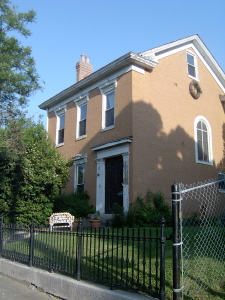 The house remained in the McKiernan family for over 100 years until Joseph F. and Catherine W. Trudeau purchased the property in March 1967 from Helen Curry, a descendent of the McKiernans. Mr. and Mrs. Trudeau resided in the home until their deaths in February and December 1994.

The Scott-McKiernan House is a contributing part of the Mansion Row National Register Historic District, qualifying the owner for tax benefits for rehabilitation work. For more information visit http://www.in.gov/dnr/historic/3679.htm. It is also located in a locally-designated historic district, which means that any exterior alterations must be reviewed and approved by the New Albany Historic Preservation Commission. For more information about the NAHPC and a copy of the City of New Albany Design Guidelines for the local historic districts, see www.newalbanypreservation.com.
The property's judgment number is 22C01-1001-MF-195. With this number you can visit the Clerk's Office in the City-County building and enter it into their computers to find the judgment owed on the property. This is public record.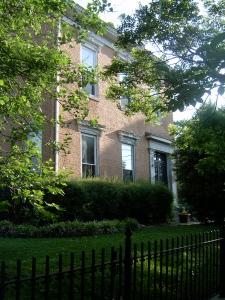 Contact:

To be sold at Sheriff's Sale Thursday, 21 June 2012 at 10:00 AM in the Office of the Sheriff of Floyd County (first floor of the City-County Building, 311 Hauss Square, New Albany). Judgment number: 22C01-1001-MF-195.